Portable Gas Detection

Agile Safety services gas detection equipment from a broad spectrum of manufacturers, and is proud to be a Honeywell Authorized Service Center.
Gas detectors require ongoing service after purchase. In addition to predictable services, gas detectors can also become damaged do to the variety of harsh environments thay are use in. Whether it's preventative maintenance, repair or calibration, Agile Safety's staff of trained service technicians are ready to serve.

Click Right Here To View the Repair Receiving Form

For those who need repair service, but just cannot do without their equipment, we offer the Agile Half-Price Rental Program. If you a monitor serviced Agile will provide a comparable monitor form our rental fleet for the duration of your monitor's repair service. We move your monitor to the front of the line, charge half the normal rental price, and cap the total rental at one week – regardless of how long your unit takes to service. Though Agile maintains a significant stock of repair parts, occasionally the original equipment manufacturer has a backorder on a particular item. Once you receive your serviced gas detector back at your site, simply return the rental unit to Agile.
Fixed Gas Detection

Agile Safety technicians can service your fixed gas detection equipment at your site. Contact us to schedule a visit.
Fall Protection and Confined Space Entry
Self-retracting lifelines (SRL's) or rescue winches that arrive at our service center often have a happy story: a worker avoided serious injury or death because safety equipment and procedures were in place and worked! Once engaged, these durable goods are required to be inspected, serviced as necessary and recertified before being put back into service. These repairs are most often significantly less costly than replacement and disposal.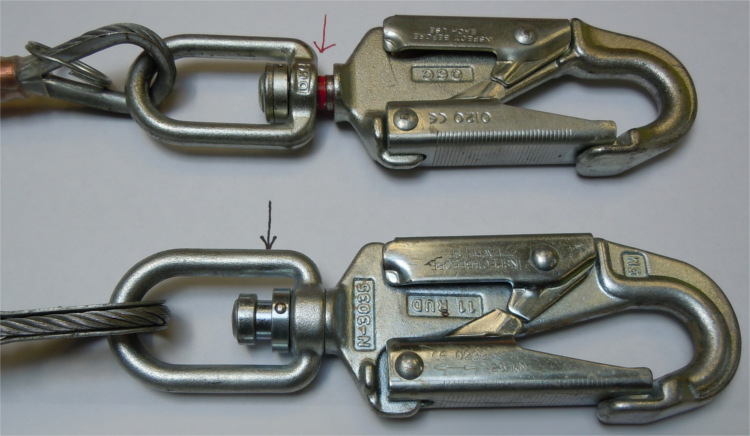 Most self-retracting lifelines and retrieval winches have load indicator double-locking snap hooks. These load indicators show if the fall protection device has experienced a fall or loading that requires the unit to be serviced. The bottom hook is fine. The load indicator on the top hook has been "popped", showing a red line. This piece of equipment is in need of service.